The Interactive Photography Exhibition
The Gallery of the National Museum, Port of Spain, Trinidad
Elspeth Duncan: April 2004
Below are written excerpts from thebrochure for the Waiting for Elaine exhibition (held last year April 2004), giving an idea of what it was all about. Also, some photos ... and visitors' comments from the Comments book.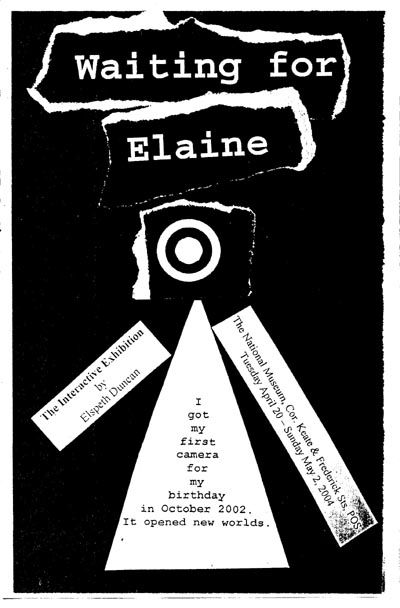 Front of exhibition brochure
Waiting for Elaine is the title of a short story created by two of my friends as they waited for their friend, Elaine, to arrive from the airport earlier this year. Upon hearing the story, I was inspired to take a series of photographs to illustrate it. (However, only six of those images are in this exhibition). Due to creative evolution, all that remains of the original story is the title.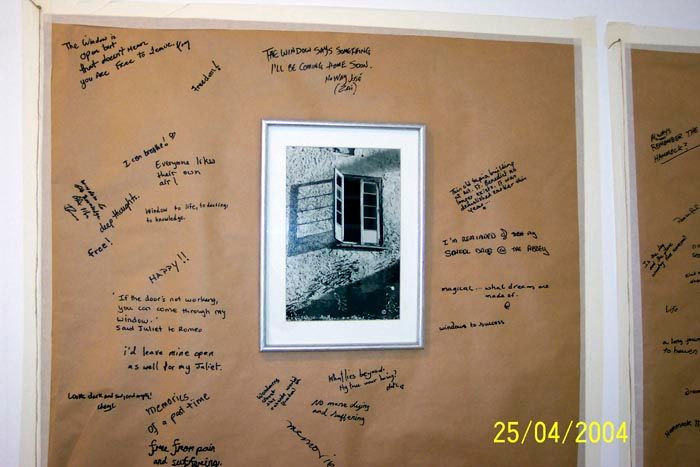 One of the "Chapters" in the story with writing by members of the public
To expand the concept further, I sent an open e-mail invitation to people (local and foreign) to interpret the theme in their own way(s). All of these submissions (poems, stories, lyrics for songs) can be read in the Waiting for Elaine Book on display in this exhibition. Some can be seen on Performance Night here at the Museum (Sunday 25th April from 6:00 p.m.)
*
What does each photograph make you think or feel?
If or when you are inspired by any of the images in this exhibition, please feel free to write your thoughts, feelings, captions, titles, questions, poems - whatever you wish - on the brown paper near to the relevant photograph(s).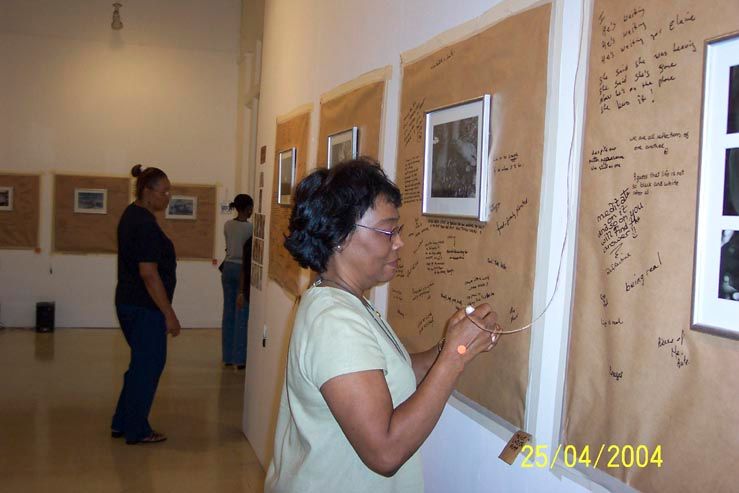 A guest to the exhibition is about to write her piece. N.B. markers hanging next to each photographic "Chapter".
I also hope you will take the time to listen, absorb and relax while you are here. Read the Waiting for Elaine Book, listen to the Waiting for Elaine soundtrack CD, experience the Waiting Room, fill in the blanks in the Waiting for Elaine story and visit the Children's Exhibition.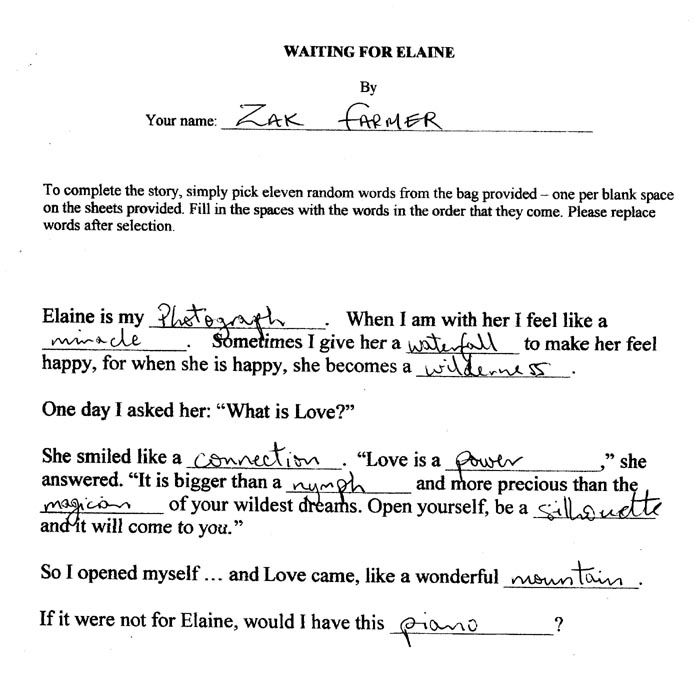 Filling in the blanks in the WFE interactive story
Enjoy everything ... and thank you for coming to my first solo photography exhibition.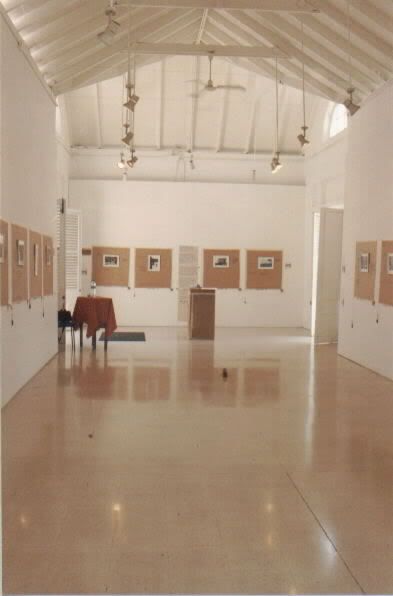 The gallery at the Museum showing the (main) photographic part of the exhibit. The other rooms contained the video installation (Waiting Room), children's interpretation of the theme (Children's Exhibition) and the interactive complete-the-story section, along with the Waiting for Elaine Book of written submissions.
Elspeth
*
Some more images from the exhibition
1. I am autographing a Waiting for Elaine poster for a little guest on opening night
2. Two guests read a "Chapter"
3. Patron reads what people have written about photo of old house
4. The little room that had the interactive story game and the WFE book (on table)
5. Mingling patrons read what others have written
6. A few more chapters
*
SOME COMMENTS PEOPLE WROTE IN THE COMMENTS BOOK
1.
Very inspiring, interesting concepts!
2.
Very original work. A very novel idea to let a person interpret a photograph for him/herself than the photographer doing so by giving the diverse photographs titles.
3.
Very deep and inviting. Hope it keeps on.
4.
Mystical, mystery ... full of presences/absences. I like the corbeaux photograph, great composition - good vibe - raw and unpretentious.
5.
Very soothing. Very interesting. Can answer questions to one's reality.
6.
Powerful & peaceful. Thank you for allowing us to share!
7.
Excellent, especially the video.
8.
A mystical experience.
9.
Thanks for the work. I am grateful that you have the courage to SPEAK!!
10.
Truly spiritual and amazing.
11.
I wish I had the courage to waste people's time like this.
12.
Beautiful exhibition. Possibilities of potential.
13.
Congrats on the beautiful photographic experience. A much needed reverie of beauty and simplicity at a time and world of craziness and absurdity.
14.
It is exhibitions like these that make you really appreciate art for what it is and what it will be. Well done.
15.
My day has been brightened.
16.
Excellent photography work. You have propelled me to begin something I was going to neglect. Thanx!
17.
It was an honour in the heart of the city Port of Spain. Escapsim of our own miracle.
18.
Divine! Uplifting! Let's have more exhibits like this!
19.
Excellent story.
20.
Thought provoking. Unusual.
21.
I feel clean and ready for the world like.
22.
I am an engineer, yet found your ideas of interactivity most surprising and profound. Am passing experience on to my colleague
23.
Nice one. Particularly liked the beach and the flip flops.
24.
An experience!
25.
A blessing. Love you.
26.
Amazing! Made me feel refreshed and alive after a terrible day.
27.
You know our names, you know our numbers. Call nah.
28.
Sanctuary ...
29.
I feel so relaxed now. I loved it. You're amazing, Elspeth. Keep on towards your light.
30.
Engaging, depth, a line, beautiful!
31.
It was very interesting.
32.
Fantastic work.
33.
A blessing in disguise.
34.
Totally awe inspiring.
35.
Finally, originality has come to us.
36.
Refreshing, new, great work.
37.
Awesome, reflective and profound.
38.
Well done, Elspeth. Congratulations on a fantastic exhibit and all the very best for the future always.
39.
Keep it up. Continue. It is needed ...
40.
Wonderful idea and interesting photography.
42.
Great photography. Thank you for the show.
43.
Interesting interpretations of "waiting". I enjoyed the show.
44.
Really eclectic, Elspeth. And your photographs are pretty impressive. MORE! MORE!
45.
Enjoyed!
46.
Terrific stuff.
47.
It is beautiful. It makes you want to go back in time.
48.
A blessing in disguise.
49.
A beauty in art.
50.
It's spooky but wonderful.
51.
Madness.
52.
Gives people hope.
53.
It leaves you thinking.
54.
It reminded me of one moment in time.
55.
The word fragile comes to mind. Like life, you almost need to be handled with care.
56.
Very interesting. Finally I've found Elaine.
57.
Very, very mind blowing. I like it. Will tell others. Thanks.
58.
Very interesting, quite unusual. I like it.
59.
What diversity. Should have taken months! But one month?
60.
Encouraging, strangely moving, brings to mind ... "split a piece of wood and I am there, lift a rock and I am there" ... The Gospel according to St. Thomas. The intent is clearly a worthwhile one and it is this that counts.
61.
It was a day of wonderful things and I will always remember.
62.
It is a day I will always remember. I had fun.
63.
A collection of unrelated objects of attention with an invitation to comment on them is pointless . Art comes through design and not losing yourself.
64.
Very different. Impressed.
65.
Very inrpiring. Thank you for the burst of energy, joy, creativity and unusualness. It has roused my vibration. Continued creativity, joy and love.
66.
I love the interactive aspect of this exhibition.
67.
It's great to know about her and her life. Someday I'd like to be like her.
68.
Patience is virtue.
69.
It's a pity I came late. I guess I waited too long and lost Elaine. I missed Elaine ...
70.
Thanks for sharing this with us.
71.
Deep and reflective.
72.
Expands one's mind.
73.
Keep it up. Really beautiful Holy Spirit business.
74.
It lifts my spirit.
75.
Ch 2 & 3 & 4!
76.
Relaxing. Freedom at work in the exhibition.
77.
Soothing and wonderful.
78.
I was really moved by the topics of the pictures, especially Chapter 14.
79.
Still experiencing.
*
*
*
*
And more ...